Overview
Medical students
Get an edge up when competing with your colleagues for those Honors scores!
Learn how to take accurate and complete patient histories and perform detailed physical examinations.
Uncertain how to clearly and concisely communicate your findings with your preceptor?
Our innovative tool will help you to present like a pro!
This is a great tool for all students in the medical industry. H&P Pro takes you through the entire process of building patient histories, completing physical exams, developing progress notes, and presenting your findings to your supervisor.
The unique database contains the very best in current methods and procedures that all medical professionals are expected to follow. The automatic progress note generator creates exactly what would go in a chart; just copy and paste it if you need a written presentation.
H&P PRO is designed to replace those big physical diagnosis textbooks. As a bonus feature, our video guides will lead you through the correct way to perform each of the essential elements of the physical exam.
SMA exists within the device's memory, acting as a comprehensive pocket guide for medical clinicians while in private practice or in remote areas in the United States or around the world - no WiFi connection required for use.
Product Features
Comprehensive guide to medical histories, physical examination and documentation of findings
Instruction guides assist you in each element of history-taking and physical examination
First application to translate checklist findings into grammatically correct progress note for presentation
Video tutorials provide detailed instruction in correctly performing physical examination components
Screenshots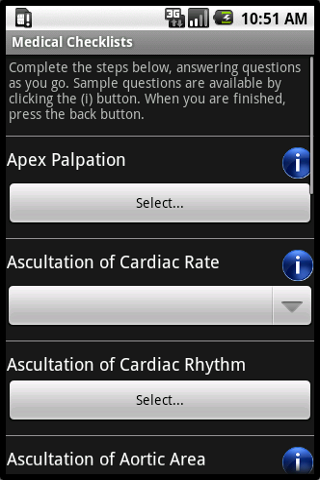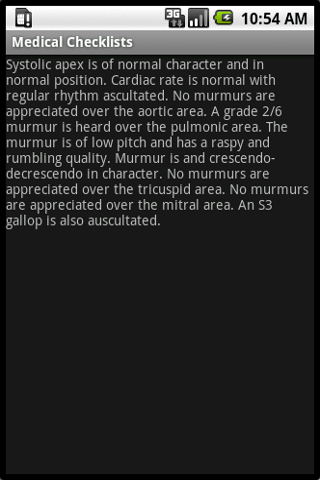 Testimonials
A few endorsements from the Amazon and Android Marketplaces
Very helpful - "Been using this as a Paramedic student and in the field. Absolutely great program for assisting in writing clear patient reports. Thank you."
Awesome App for EMS! - "This is one fantastic application. I have it on my Kindle Fire. All I have to do is plug in the information and it writes the narrative for me. It reads clear and intelligently. This is an awesome free app. Worth the time, would pay for it! Fantastic!"
This application kicks butt! - "This application is so great I would have paid to get this one. It is a valuable tool for any nursing or medical student who needs to do head to toe assessments or admissions to a hospital or clinic. This application is A W E S O M E!"
Great for nurses too - "I'm a field nurse case manager and use this app to document the physicians assessments to relay to the insurance and the employer so they don't have to wait for the dictation. I review the findings with the physician and send. The physicians I show.this to think it's great and one just got a kindle fire and I can't wait to tell him this app is available for that device."
Endorsement for our H&P Pro app
I think this is a GREAT app!!! - I just want to say as a Nurse Practitioner student this app has been an absolute life saver, making soap notes a breeze. I am definitely learning and at the same time racking in the A's. Thanks SMA for this GREAT app.
News
Version 1.0.6 is out. We've included the Abdominal and Extremities exams. Check it out and let us know what you think! Thanks. -- SMA Team.
Contact Us
Give us your feedback, your comments, or any other questions you may have.